The Future of Associating in The Age of Transformation
| | |
| --- | --- |
| Jeff De Cagna | In this virtual learning session led by Jeff De Cagna, you will learn how the fundamental human experience of associating--the deep and enduring rationale for the existence of associations--continues to expand and evolve in a world experiencing relentless transformation. By building an empathic understanding of the world in which your stakeholders live, you can develop your capacity to ask and answer more generative questions about the future of your organization. If your organization is not actively exploring possible responses to this question, you're running behind. The accelerating pace and intensifying impact of societal transformation is unforgiving. It will not slow anytime soon, and it certainly will not wait for you and your board to get your act together. |
The Future of Associating in The Age of Transformation
Date: Thursday, October 23rd, 2014 | Time: 2:00 ET, 1:00 CT, 12:00 Noon MT and 11:00 PT.
Program Summary
What will it take for associations to thrive over the next decade and beyond?
If your organization is not actively exploring possible responses to this question, you're running behind. The accelerating pace and intensifying impact of societal transformation is unforgiving. It will not slow anytime soon, and it certainly will not wait for you and your board to get your act together.
Are you ready to build a truly 21st century association?
Above all else, leadership is an activity of purpose. Earning your status as a leader means being purposeful about forgetting the past and driving the challenging work of reinventing your organization for the very different world that is unfolding before our eyes.
In this virtual learning session, you will learn how the fundamental human experience of associating--the deep and enduring rationale for the existence of associations--continues to expand and evolve in a world experiencing relentless transformation. By building an empathic understanding of the world in which your stakeholders live, you can develop your capacity to ask and answer more generative questions about the future of your organization.
In the words of poet Mark Strand, "the future is always beginning now." It is time to make it happen for your association.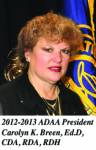 Carolyn Breen
RDA, RDH, CDA, EdD
Carolyn Breen started her career as a statistician with the Department of Commerce. Since 1999, he has focused his efforts on research and analysis of market data and economic indicators for the work truck industry. He was appointed to the U.S. Government's Industrial Trade Advisory Committee for capital equipment and is currently a member of the National Association for Business Economics. In 2008, he was named one of Bloomberg's top economic forecasters. Steve earned a master's degree in economics from the University of Utah (Salt Lake City, Utah).
$i++ ?>
When we conceived the Elevate Learning Platform a primary objective was to foster the integration of knowledge from thought leaders with peer ideas and experiences to create a strong social learning environment. When you enroll in a webinar, you will immediately have the ability to join a forum discussion around the topic for this program. You have the option of receiving a notice each time someone posts to the forum. We expect our session leaders to support these discussions with their thoughts on their topic. What traditionally has been a 60 to 90 minute session can now evolve into a much more meaningful engagement.
ON THE DAY OF THE EVENT
You will be able to login 15 minutes before the event begins.

Note that this program will be utilizing streaming audio. (through your computer speakers)
Components visible upon registration.